Read Time:
2 Minute, 21 Second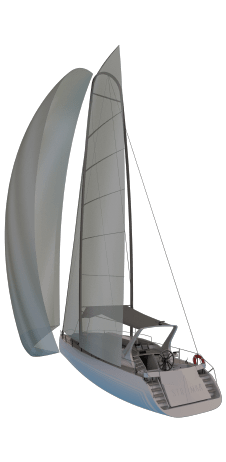 Wow … how strange …!
But who invented it …?
Well let's start with those who invented it … a start-up in Riccione, where I was born, invented it, a town south of Rimini, on the Adriatic coast of Italy, south of Venice and Ravenna. Daniele Mingucci made the 47-foot aluminum sailing prototype named "Futura" with this strange U-shaped tree, together with his staff and the University of Bologna through his start-up called Stramba S.r.l. The prototype was made by Cantiere Zuanelli. In Italian, Stramba is a diminutive of the term jibe, which all sailors know what it is. In any case it is a maneuver of sailing.
But how does it work?
In reality the sail looks like the sail of a kitesurf that is splinted and inserted in a track on a U-shaped tree made with two legs resting on the deck. In practice, from the center of the boat you can no longer see the tree with the classic boom, of the Bermuda sail. There are some particular "problems", which perhaps make one think a little, especially in the phase of demolition. In fact, with the wind in its sails the possibility that the sail slips inside the U-shaped shaft seems highly likely to see it from the video. The perplexity is that the sail slips into the U and creates a sort of spinnaker. The staff claims to have ideas to avoid this problem. Moreover, it seems a bit peculiar, at least, to be able to take the reefs, but also for this it seems that there is a ready solution.
So you have a lot of space on the deckhouse
The fact that the tree does not exist that rests on the deckhouse or enters the deck, has given the possibility to the designers to increase and develop the liveable space in the center of the boat, therefore the boat itself seems much more open and the space of livability to the open is completely modified. To me, I have to say that I really like it, really. In addition to the fact that eliminating the boom, you do not have all the danger associated with the sweep that it can do just in the phase of demolition. On the other hand, the demolition is perhaps one of the most dangerous maneuvers in sailing.
I'd really like to try it!
Oh yes … To understand exactly what forces are in the field and how to navigate not having a tree in the middle, but I think this changes little. It reminds me a lot of a video I saw many years ago, of the Istituto Luce, which I managed to find and I published here, even if it wasn't a U tree. While I posted the exclusive Giornale della Vela video below went to try the mainsail sliding on the U-shaped shaft.
Links
Ecco come funziona l'albero a U senza boma!