Read Time:
1 Minute, 39 Second
The privacy notice
Privacy Warning: This network is blocking encrypted DNS traffic
This warning message appears on 10.5 "iPad Pro devices with version 15.1. This warning does not appear on other devices updated to 15.2 and connected to the same network.
What does the notice mean?
The alert notifies you that you are on a network that does not have SecureDNS, DNS-over-HTTPS (DoH) and / or DNS-over-TLS (DoT).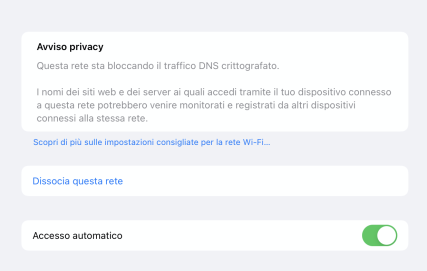 Where does it occur?
The warning can occur in any network, but lately I have appeared with the TIM network in FTTH fiber with TIM HUB Release AGTHP_2.2.1 and with the Fastweb network in FTTC with FASTGate DGA4131FWB, for Italy. But not only on these networks does this warning appear.
It could be due to two factors: either the main router and the lack of other network devices such as other routers. While if under the main router there are other routers or devices such as firewalls, these could manage the DNS service instead of the main router or only for a part of the network traffic passing through it. However, the problem tends to be with the router that you have connected upstream of your entire corporate or home computer network.
What could happen?
It could happen that, if inside your home or company network, some attacker activates a sniffer, all the requests you make to the DNS for all the internet addresses you visit could be filtered and / or registered and this could be a serious problem. privacy. You may also have this problem if you are using the outdated HTTP protocol instead of the newer and more secure HTTPS protocol.
How to solve the problem?
The problem should be solved by the network operator, so in this case TIM or Fastweb, but it seems that with the update of the iPad in question to 15.2 the problem has disappeared. While with iPhone updated to 15.2 this error has never been displayed.
Sources
https://en.wikipedia.org/wiki/DNS_over_HTTPS