Read Time:
1 Minute, 2 Second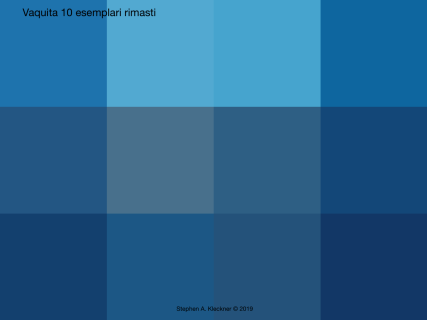 Can you recognize it …?
– How the hell can I figure that Stephen out? Come on, you can't see anything … – you'll tell me …
Yeah … you can't know … you're right …
So I say I … this is a Vaquita, the image I created using 12 pixels, because starting from the original image I used I could not make 10 pixels, or the actual number of specimens that are estimated to have remained, unfortunately, in the seas …
I was inspired by the campaign created by the Hakuhodo C&D agency in Tokyo
This campaign aims to raise awareness of the population by creating images of endangered species with the number of pixels equal to the estimated number of specimens still alive.
Unfortunately, the Vaquita is in the process of extinction. It is estimated that 19 to 10 are left. $ 37 million has also been allocated to try to save Vaquita with new ones.
If you really care what Vaquita is, just do a search on the internet and you will see what a cute fish is the Vaquita or porpoise from the Gulf of California …
Sources:
Farewell vaquita, the smallest cetaceans in the world sentenced to extinction within a year
A 37 Million Dollar Plan to Save the Vaquita