Read Time:
2 Minute, 17 Second
The wave forecast foresaw 18 meters
I told you about the catastrophic and monstrous forecast of 18m high waves in the Atlantic Ocean in this post: Waves from 15 to 18 meters with a period of 15 seconds in the Atlantic Ocean
Waves that would have been created after the passage of Hurricane Epsilon. Very strong winds with peaks of 80 knots of wind in the center of the North Atlantic.
The reality of the facts and the secular wave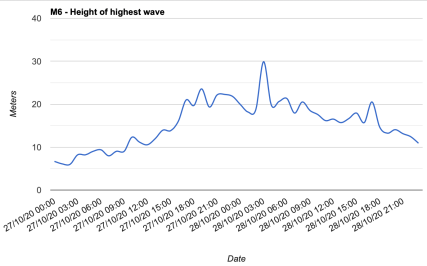 Well on the 28th at 3:00 am, the M6 ​​ocean buoy positioned 200 miles east of Ireland recorded a maximum wave of almost 30 meters. More precisely from the data collected, the buoy recorded 29,883 meters. Converted to feet: 98,04 feet! Moreover, at that time the buoy also recorded average winds at 29 knots with gusts of 53.3 knots. Also as you can read in the data, posted below, the impressive thing is that there were waves of 10 to 20 meters every 10 to 20 seconds, for two days in a row, really impressive ….
You can also see with your own eyes the data of the ocean buoy M6 on this site of the Irish navy: http://www.marine.ie/Home/site-area/data-services/real-time-observations/irish -weather-buoy-network-observations? instrumentname = M6
You will then have to select the search period from 27/10/2020 to 29/10/2020 and go to sift through the data. To meet you I have already taken the screenshot of the data and I have also saved a .pdf file that you can see in the links I put below.
The underestimation of the forecasts
Really monstrous waves, which were not foreseen, as the forecast gave 18 meters. This is to say how often forecasts underestimate reality.
Think what it must have been like to be present at that moment with waves of 29/30 meters with an average period of 14 seconds …! The concept is that many of you know it is from 30 meters high, think about going downhill for 7 seconds and then starting the climb for another 7 seconds, in practice between one crest and the other of the wave there are 14 seconds of time.
The record was 32.3 on the island of Taiwan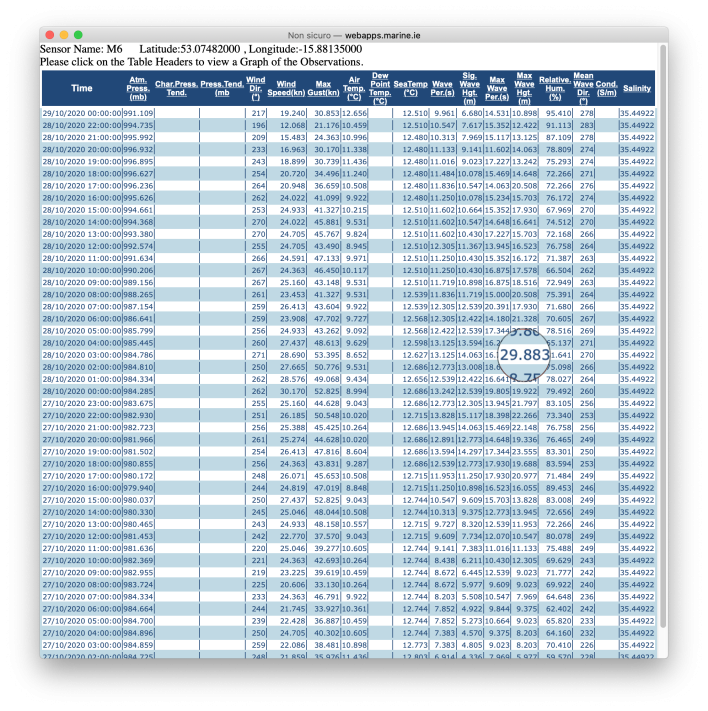 Sources
https://www.esa.int/Applications/Observing_the_Earth/Ship-sinking_monster_waves_revealed_by_ESA_satellites
http://www.marine.ie/Home/site-area/data-services/real-time-observations/irish-weather-buoy-network-observations?instrumentname=M6
‎webapps.marine.ie:observations:IWPData:Observations.aspx?projectid=2&instrumentname=M6
30 Mtr – 98.4 Ft Wave Recorded Off Ireland's West Coast This Morning