Read Time:
4 Minute, 52 Second
11.15 am: I am on the wing of Olib, Croatia, on a sailing boat with other people. The weather situation is quite complex 25 knots of rising wind, wave of 1 m with period of 7 seconds in rapid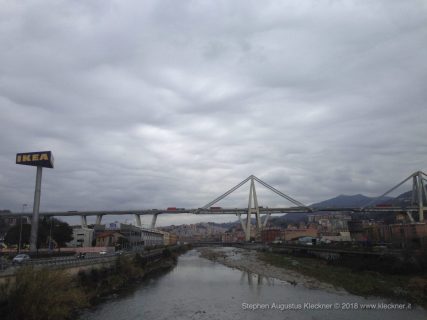 increase, has just jumped a filmine less than 300 meters from the boat to 90 polar left, we are powered, without sails, we take sea and wind. Some people are bad, because some I have them go under to repair them in case of more lightning that could easily take the mast of the boat, fortunately I told him that in the event of lightning you did not have to make a name …. we are doing zig-zag in the waves, trying to get them to mascon the situation if you stop the engine could become dangerous, a bit 'as if a bridge collapses under your feet, you say no? I'm going to check the closure of the sockets at sea and go back to the helm, the phone rings, it's Mauro … who asks to talk to me, tell him that I'm not available, I hear everything but I'm at the helm, in a storm …. Well I just wanted to ask if it was Genoa. The bridge of Genoa has fallen! So I learned that the Genoa point had fallen. Ok bye .. Yes, but what bridge could it be? We hope that the highway bridge has not fallen! What must have fallen for forty years, that no!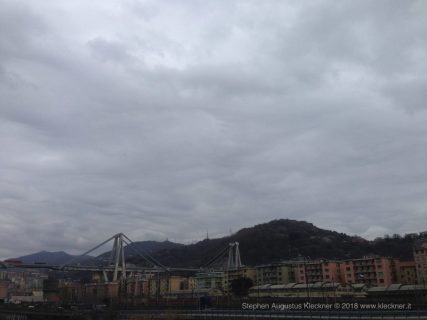 That no! Maybe what was already starting to bend long ago, we hope that collapsed that, in safety, and that there were no deaths …. yes, that for which the AMT bus drivers have long said they did not want to go there anymore, we hope there are no dead! This was the first thing I thought. Then I had to keep thinking about the waves and the sea, some people who were not doing very well, but I kept wondering which bridge devil had collapsed. At one point we stopped in a roadstead, protected, the weather was in a decisive improvement phase, even if still in rapid evolution. We passed a low pressure on our heads, which rumbled, everyone recovered and returned the smile with a pale sun that with the wind has quickly dried the wax, we are thinking about food and some have dried, changed and asleep or refreshed with more dedication. I finally managed to read a piece of news! While we are rowing with the boat in the bay and we wait to leave again to a safe harbor …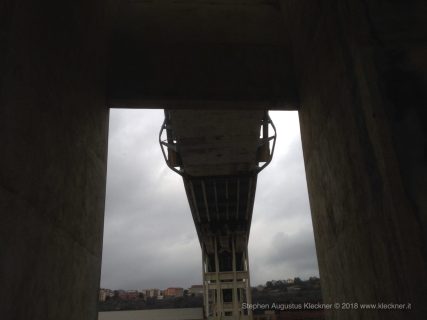 The Morandi bridge collapsed! It's not true! I do not believe it! But then it collapsed a lot! But Christ! 10 dead? Already 10 dead! Holy Christ but we are at war! Bridges collapsed in war! How many devils of points have collapsed in Italy in the last 1000 days? I can not believe I am astonished, I read a little information from the network, it is really the Morandi bridge and it is really the bridge of the highway! An unheard of thing! For forty years it is said that the bridge would have collapsed, even in October our professor of Physics has refreshed our memory talking about the Morandi bridge … They have done everything, they have framed it, they put it under a bridge crane to maintain it, they placed tie rods in a pylon to support the concrete, exhausting jobs that blocked traffic and paralyzed! What then even a little expert like me of construction has always been asked, but how do they hold up the pylons of concrete structure, which in turn weigh on the structure itself and are not so flexible? Twenty years we are talking about sta Gronda that should be a bypass for the highway and nobody hands it, biblical times for everything … and … and … and … ..and then the bridge collapses?
But how the fuck we are put! "They had to start renovations soon …" … The renovation of a bridge …. but it will be well that you are behind a bridge every day and that if you realize that nothing could collapse, maybe it's time to close it and make a new steel work or not?
Fuck here is not about getting a lightning bolt by chance … here it is a bridge collapses … that already the situation was long-awake … Among other things, jump out of the Espresso that from February we knew that the situation was out of control? What should the renovation work have to start? And nobody came to mind in February to block everything? At least to calm down the traffic? I have no words! To think that under that bridge I walked three times to go to Ikea this year! I also took pictures to capture its majesty and the apparent bad state, at least not perfectly ordered state of maintenance. I have traveled in my life a thousand times in the car and I have always had some anxiety … as I have on some viaducts of other highways.
About thirty people ask me how I am using WhatsApp, on messenger, my cousin and other relatives from America, some equal that I have not heard for some time. Everyone is worried, but how come all together we can not make a system, why do not things work in Italy? What's going on, why is there this neckline, this lack of fiber …?
How can we afford 45 deaths in a country where Pontifex lives, our pontiff, a country that has built all the bridges of Europe, structural bridges and relationships, how can we bring down the floor beneath our feet without realizing it?
Attention these videos contain very strong images, we do not recommend to an emotional audience.
Attention these videos contain very strong images, we do not recommend to an emotional audience.
Attention these videos contain very strong images, we do not recommend to an emotional audience.
Attention these videos contain very strong images, we do not recommend to an emotional audience.
https://www.youtube.com/watch?v=loMOceVWfDc
Italy bridge: Dozens feared dead in Genoa as motorway collapses
Italy bridge collapse: Genoa death toll rises to 43
Genova, crollo ponte: fughe di gas e persone sotto le macerie