Read Time:
1 Minute, 28 Second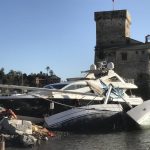 It's been more than a month since the storm that destroyed the dam of the tourist port of Rapallo and this is the situation today.
As can be seen from the photographs, there are several boats and boats on the beach or stranded on the shore of the beach or on the beach in front of the seafront. At the mouth of the river that crosses the town of Rapallo, a footbridge with innocent pipes for pedestrian crossing has been installed. On the other hand, the most striking thing is two sailboats that lie embedded in what remains of a bathhouse, a sailing boat with a tree broken in three points and the other with a tree black that still stands oblique like a cry of pain.
The sea storm, the most powerful of this century in Liguria, destroyed the pier of protection of the tourist port of Rapallo, drifting, many motor boats and sailboats, about 340 boats registered in port, missing the call 70 boats that are supposed to have been crumbled by the storm. In the video below, the exact moment of the destructive wave.
There are many motor boats, jammed one with the other, where the smaller one has often yielded to the weight of the largest that has resisted the shocks against the shoreline. There are pieces of anything scattered everywhere, even a hub with a propeller and the foot of the engine of some boat, crumbled by the force of the sea. We hope that soon we can see a restored Rapallo, ready for the next bathing season.