Read Time:
2 Minute, 13 Second
How much does a WiFi router consume and cost that is always connected to the socket and switched on?
The black Fastweb WiFi router, with courtesy white LEDs, consumes about 10.4 Watts per hour which multiplied by 24 hours by € 0.23 per kWh makes € 0.06 for a total of 0.2497 kWh. Multiplying by a month of 31 days makes about € 1.78 for a consumption of 7.7376 kWh Multiplying again for 12 months are about € 21 per year for a total of 91.104 kWh emitting 41.9078 kg of CO2 into the atmosphere (emissions that the modem does not produce, but the power plant that produces the electricity)
Should I unplug the router from the power outlet at night?
Turning off the router in 7 hours at night, you spend about € 14.88 per year with an emission into the atmosphere of about 29.68 KG of CO2
What if you turn it on only when you need it?
In this case, assuming an average consumption of 5 hours a day, electricity consumption drops dramatically, obviously, and we will spend about € 4.32 per year and only 8.73 KG of CO2 in the atmosphere.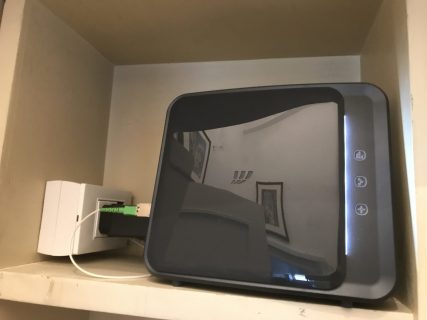 In short, saving is always a good thing, you have to do it by thinking about the actual use of the equipment. If you have surveillance cameras connected to the router, if this is turned off, their display may fail. Maybe it would be better to turn it off when you leave, but if you forget it on when you go for a week on vacation nothing happens, you will spend € 0.28 the only thing that is actually throwing CO2 emissions into the atmosphere for nothing, if at home there is no one using the router.
… and electromagnetic waves?
Another matter are electromagnetic waves, which can be annoying at night. Of course if you have it in your bedroom and maybe it's even cracked to use more thousand watts in transmission it would be a good thing to turn it off, but even if it works, exchanging some updates with the phone, it will certainly not be continuous transmissions of Terabytes of material. In short, for radiation if it does not transmit it does not emit and in any case if it does, it does so at a low voltage, usually 70 milli watts. https://www.theguardian.com/technology/askjack/2012/sep/27/wi-fi-health-risks Another example is a router that we must always keep on, the Netgear DGN2200, for which, among other things, they also change the transformer under warranty because sometimes it emits an annoying whistle, consumes about 6.4 watts hour and therefore always keep it on. 24 out of 24 it will cost me € 12 per year for a total of 56,064 kWh and an emission into the atmosphere of 25.7894 kg
Sources