Read Time:
1 Minute, 35 Second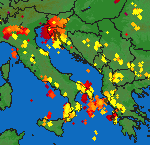 During the strong storm in Croatia for Sunday, August 26, 2018, which fell from the North West like a saber, also creating a Waterspout during a stormy storm August 26, 2018, during his arrival, passing from Trieste, driven by strong bora winds that in northern Adriatic, they reached 50 knots, unloaded its strength in lightning.
To be precise, Muggia has unloaded its strength in lightning … this is the result of a thunderbolt in the marina.
The unsuspecting Salvatore Sconamiglio, was recovering by chance the lamp, when suddenly a lightning hit the tree of a boat moored alongside. The marina, in the jargon, the port dedicated to tourist and private boats, is a place where there are n antennas, how many there are boats moored in dry and in water.
As you can see perfectly in this video, however, the lightning splits and chooses to hit the boat's shaft …
Know that lightning can travel even 400 km away. An exaggeration, perhaps you will say … but if it strikes near your boat in the middle of the sea, know that the lightning can easily separate to find the fastest way to unload to the ground.
The lightning strikes hard, but only very little discharge of its strength on the mast of the boat and the result is tremendous. It leaves no escape to the mast of a boat, because attracted, from its tip, but fortunately all the rest of its destructive force discharges it at a great distance.
So always stay away from lightning and when the crew is instructed to shelter inside without touching iron or electrical equipment on board.
Think of being inside that boat the moment the lightning hits the tree. In these weather situations, you have to be sheltered and closed inside homes or shelters of luck, avoid being too close to poles or trees …. Always better to see the lightning from the BAR of the marina …;)
The video is published by SALVATORE SCONAMIGLIO on the YouTube channel THE STORM where to follow other events of strong intensity.